Tuition Assistance is available to families who qualify financially. If you're looking for information on tuition assistance, click here.
Families will be billed tuition and fees based on the payment plan that they have chosen on their tuition contract.
Holy Trinity School will confirm all parish registrations. Members of an Archdiocese of Hartford Catholic Parish will be eligible for the Archdiocese of Hartford Catholic Parish Grant of $250.00.
Starting in the 2019-2020, we will no longer be using paper contracts.  In order to pay your tuition click here and make an account through FACTS and follow the prompts.  If you have questions, call Mrs. Perkowski at (203)269-4476.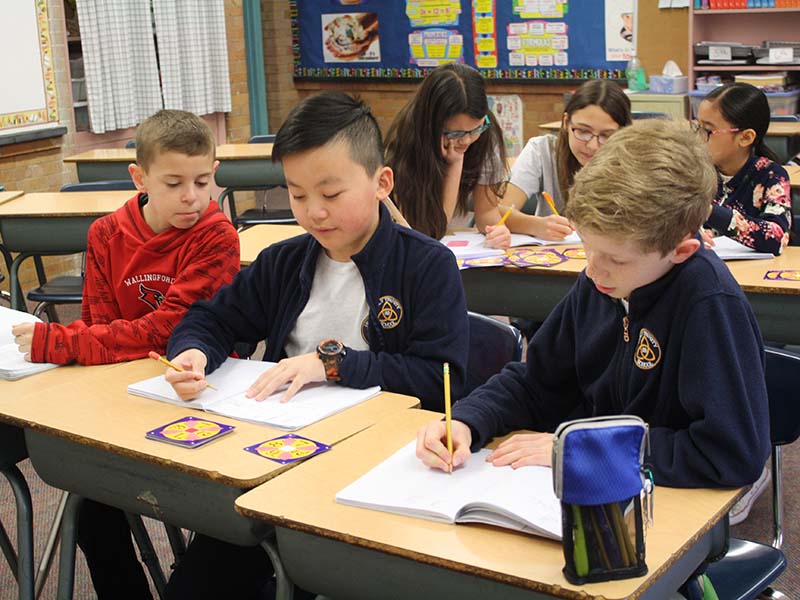 Holy Trinity School 2019-2020 Tuition Schedule
*Not including the Archdiocese of Hartford Parish Grant
1 Child – $5,370.50
2 Children – $10,181.00
3 Children – $13,287.00
4 Children – $16,167.00
Application
TUITION AND FEE PAYMENT OPTIONS
Student tuition is due and payable on June 1. Selection of a payment option is a financial accommodation to parents and does not relieve them of their responsibility to complete the tuition for that year. If payment plan B is selected and a student withdraws from school, additional tuition payment may be required. Holy Trinity School will attempt to collect those additional payments through various procedures.  Tuition and fees may be paid by check, cash, or FACTS on the appointed due dates according to one of the following options:
PLAN A
Annual Payment due June 1st. This payment is made directly to Holy Trinity School.  **Families more than 30 days late on this plan will be required to join FACTS.
PLAN B - FACTS
Payments through FACTS due June-March. This plan is managed through FACTS Tuition Management. Payments are automatically deducted from your checking or saving account on a ten-month payment schedule. Students' tuition must be paid in full by April. Neither Holy Trinity School nor FACTS will have any other access to your account. There is a yearly $45.00 per family enrollment fee for this plan. This charge will be reflected in your tuition bill.  To sign in, follow this link https://online.factsmgt.com/signin/3JMK3
TUITION ASSISTANCE AVAILABLE
*Please note: Tuition assistance is available to qualifying families at all elementary and middle schools through the Archbishop's Annual Appeal (AAA) and the Catholic Schools Support Program (CSSP). CSSP also provides tuition assistance at the high school level.  Please, see Tuition Assistance for more details.