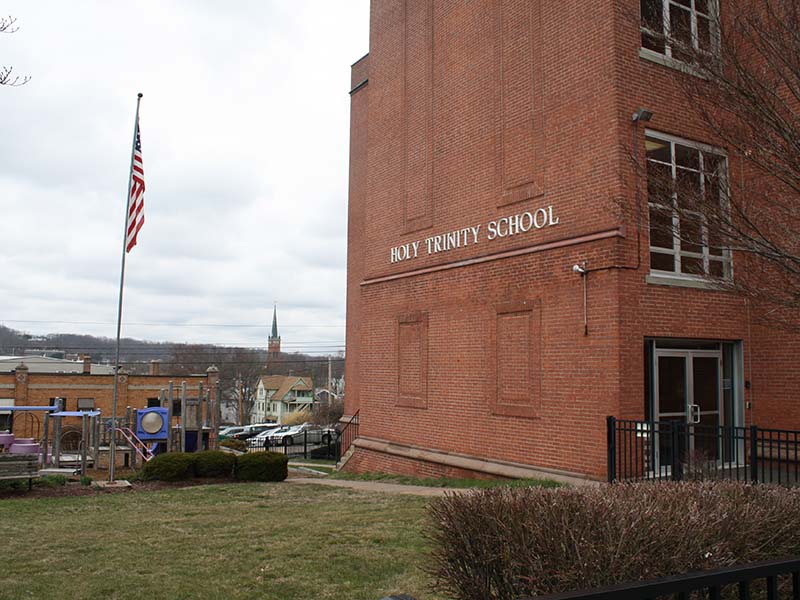 Our Mission Statement
Holy Trinity School exists to communicate Gospel values, to provide a quality academic program and to develop a faith community which encourages respect for self, others, and the global community.
About Our School
Founded in 1913 under the leadership of Father John Carroll, Holy Trinity School was established to provide Catholic children with an education that would include faith development as well as academic instruction. Originally staffed by the Sisters of Mercy, all classes are currently taught by dedicated lay teachers.
Our rigorous curriculum includes daily religious education along with a strong language arts and mathematics program. Such updated features as a fully electronic library, state-of-the-art technology center, advanced math, Spanish, and an instrumental music program enhance the curriculum. History, social studies and science round out the curriculum. Interactive Smart Boards have been installed in all classrooms. iPads enhance student learning in the classroom. Holy Trinity School is accredited by the New England Association of Schools and Colleges.
Our school day runs from 8:10 a.m. until 2:25 p.m. Transportation is provided for students residing in Wallingford.
About Our Principal
Deacon Dominic Corraro earned his Bachelor of Science and Master degrees from Southern Connecticut State University. He earned his Sixth Year Certificate in Educational Leadership from Quinnipiac University. He was ordained a deacon in 2016 by Archbishop Leonard P. Blair of the Archdiocese of Hartford and has been assigned to Holy Trinity Church since July 2017.
Our recently retired principal, Sister Kathleen Kelly, continues to serve at Holy Trinity School as the Coordinator of Services.