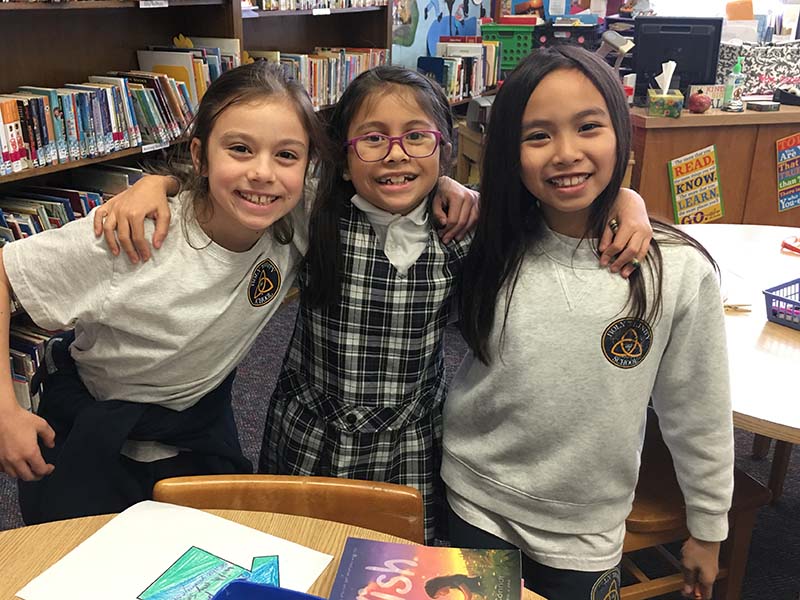 How to Apply to Holy Trinity School
Our admission process includes every effort to assure a good match between our school and the needs of each prospective new student. Admission is based upon an application for enrollment, student interview, and student assessment to establish grade level readiness. The faculty and staff encourage students to deepen their understanding of self and others. Holy Trinity School does not discriminate on the basis of religion, race, color, handicap, or national or ethnic origin.
A Small Class Environment
Applications are being accepted for the next school year. However, we have limited availability in certain grades because we emphasize a smaller student-to-teacher ratio. Please read below for more information about our admission process.
Apply in 5 Easy Steps
Step 1 – Contact us by calling the school at 203-269-4477.
Step 2 – Attend an Open House or schedule a tour. The Open House is an opportunity for families to visit the school to observe learning in action.
Step 3 – Submit the following forms to our school:

A copy of your child's birth certificate
A copy of your child's baptismal certificate (if applicable)
A copy of current report card and standardized testing
A completed application along with a non-refundable $25 application fee (Tenemos una aplicación en español. Favor de hacerla y entregarla con un pago de $25.)
A completed Health Assessment Record and Wallingford Public Schools Health Services form for students entering Kindergarten and Grade 7.
The parish form signed by the pastor in order to be eligible for the reduced "registered and contributing to a Catholic parish" rate (provided once your child is accepted)
Step 4 – Arrange a shadow day for your child when s/he will spend the day with her/his new class members.
Step 5 – (Incoming Kindergarten Students Only) After your completed application is reviewed, the school will contact you to schedule a Kindergarten Readiness screening for your child.