Welcome Families and Friends of Holy Trinity School.
This year's auction event will consist of a silent auction during the cocktail hour, followed by a sit down dinner with a live auction conducted by Eric Hummel.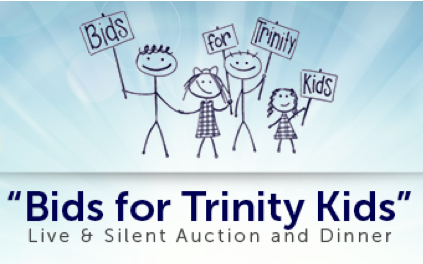 RESERVE YOUR TICKETS TODAY!
Event Details
Auction 2020 Date Coming Soon!
More Info
Make a Donation
Please consider donating a good or service to our auction. We also have the opportunity to purchase event sponsorships. Each sponsor will be recognized during the event and on our website.
See the forms below for donations and sponsorships.
All proceeds from the auction directly benefit the students of Holy Trinity School through program and facility upgrades. Examples include: expanding technology, textbooks,, building updates, such as replacing carpets and painting, as well as purchasing new reading series, etc."
We thank you for your generous support! Purchase a ticket and join us for an enjoyable evening! Should you have any questions, please feel free to check our
Frequently Asked Questions below and/or contact us at auction@myhts-wallingford.org.
Jillian Kalinchak, Nicole DeAngelis, Karen Simeone. Holy Trinity School Auction Committee Chairs
Why an auction?
The Holy Trinity School auction is one of the major fundraisers of the school year. In the 2017-2018 school year, the auction raised $45,000. The money raised helps the Home School Association meet its yearly fundraising goal of over $70,000. The Auction 2020 date will be announced soon!
Where is Holy Trinity School's auction being held?
Our auction will be held this year at Fantasia Banquet Facility, at 404 Washington Ave, North Haven, CT 06473.
What kind of items can be donated?
Items could be a good or service. Items must be new and unopened. In the past we have received sports memorabilia, vacation homes, event tickets, gift certificates (restaurants, mani/pedi, massage, facial, 9 or 18 holes of golf, gym membership, etc.) electronics or items families can get for a discount. Services like landscaping, painting, gutter cleaning, lawyer professional services, etc. Some arrange these donations through their employer or from a family business, while others may chip in together to purchase a larger item.
Your gift will be displayed that evening and listed in the program provided to each bidder.
Click here to download our 2018 HTS Auction Donation Form.
What kind of event sponsorships are available?
Sponsorship opportunities are available for the auction. The description of sponsorship levels is here. Sponsors will be listed and recognized at the event.
Can I find out what is being auctioned?
The catalog of auction items will be posted here once it is completed. Read the auction flyers that are sent home, they will announce donations that have come in.
What is the auction's dress code?
Guests of our past auctions have dressed "smart casual."
Can I help?
YES! Please, become involved with the committee, donate items or services, attend the auction and bring other family members and friends. It truly takes the support of our entire school and community for this auction to be a big success!
How much are the tickets?
$60- It includes a full sit-down dinner with wine, beer, and soda.
Tickets can be bought by mail or online. Payments may be done by cash, check (payable to Holy Trinity School Auction), or credit card.
If you want to buy your tickets online, please click here.
Where can I get more auction information?
Please come back to this page often as it will continue to be updated when there is new auction information to share. If you do not see the information you seek, please email us at auction@myhts-wallingford.org.
You can also follow us at our Facebook page.
Who are the chairpeople of the auction committee?
All proceeds from the auction will be used for educational programming and facility upgrades, which include updating textbooks, buying new reading series, expanding technology, replacing carpets, painting.
Contact the Auction Committee:
℅ Holy Trinity School Auction
auction@myhts-wallingford.org
11 N. Whittlesey Avenue, Wallingford, CT 06492
(203) 269-4476