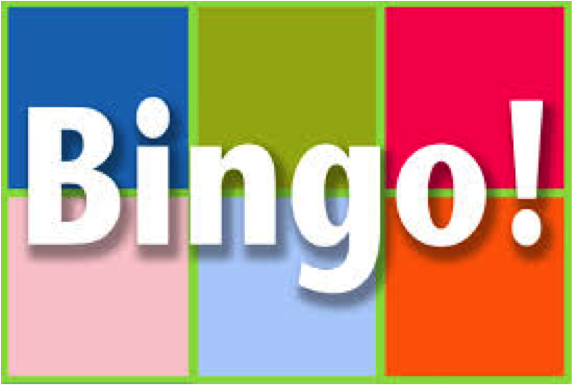 Hosted by Holy Trinity School Home & School Association
Bingo is held on Friday at Most Holy Trinity Church Hall (65 North Colony Street, Wallingford, CT 06492). Doors open at 5 P.M. Food and refreshments are available for purchase. Bingo games start at 7 P.M. Each Friday there is progressive Bingo.
BINGO is one of our biggest fundraising events. Please support Bingo by volunteering and/or playing.
Please, click here to check the ONLINE BINGO CALENDAR for signing up to volunteer and/to donate food items.
BINGO COORDINATOR: Contact Pat Moniello – bingo@hts-wallingford.org.
Next Bingo Dates & Class assignments:
September – Grade 8
October – Grade 7
November – Grade 6
December – Grade 6
January – Grade 5
February – Grade 4
March – Grade 3
April – Grade 2
May – Grade 1
June – Kindergarten
Bingo Workers:
The most essential workers for the functioning of the game of Bingo as controlled by the State of CT are adults to work the "Bingo floor." We need callers (people with strong voices.) We also need people to verify Bingo cards. At least three workers are essential to work the floor effectively. In order to perform this task, a very brief form needs to be completed in order that we meet State of CT requirements. Pat Moniello has the form at Bingo. We have the most critical need for parents who will make a commitment for more than one night.
"Floor workers" are needed at 6:00 p.m. until approx. 9:45 p.m. All workers must sign up on the online calendar to ensure a sufficient number of workers. Each worker must sign the log book at Bingo each night that they work.
We have reviewed our tuition rebate structure. Workers receive $200.00 off tuition if they "volunteer" one Friday night a month or a total of 12 times. This calls for a once a month commitment throughout the calendar year. In order to qualify for this rebate, parents need to be willing to be "floor workers." Please remember that we need summer help. If two parents volunteer, the amount earned is $400.00.
The use of the online calendar will also ensure that our parents are aware of the Bingo schedule which is dependent on holidays and other functions that take place in the church hall. We value your time and do not want people showing up when there is no Bingo.
Kitchen workers/Room Parents:
Your help is needed in staffing the kitchen. Each grade will be assigned a number of Fridays to provide kitchen help and donations for concessions. Room parents will ask parents to sign up online.
Arrival time preferably is 4:30 but no later than 5:00 p.m. please. Two kitchen helpers are needed at all times. We will try to use two shifts to accommodate family schedules. Of course, anyone is welcome to work both shifts.
Shift 1: Arrival time preferably by 4:30 P.M. but NOT LATER than 4:55 P.M. Workers help sell and serve food items. Shift ends by 7:00 P.M.
Shift 2: Arrival time by 6:55 P.M. Please be quiet when arriving since bingo will be in session. Workers sell and serve food items, start cleaning and putting things away after bingo break around 8:10-ish. Workers are responsible for cleanup. Workers leave approximately 9:00 P.M.
Room parents will continue to ask for snacks donations. Parents may donate individual chips/snack bags, 12-pack brand sodas (Diet/Regular Coke, Orange, Root Beer, Diet/Regular Ginger Ale) cans, water bottles, microwave popcorn bags, hot chocolate bags, full-sized candy. We need at least two donations per night. Please, use the online calendar so we know what will be brought in.
All workers both "floor" and "kitchen" will need to utilize the online calendar. This will help in scheduling and avoid too many or too few people in one time frame. The online calendar is on the school website under Home School Association – Bingo . All workers need to pay for food consumed.
Grade 8 students may help but must be accompanied by an adult and they also need to sign up on the online calendar. Bingo is not an event where students can be dropped off by parents. Bingo is gambling and strict rules dictate who can work and what they can do. If these rules are not followed there are severe consequences relational to our Bingo license. Students must sign in and purchase food consumed.
Students may not serve hot liquids.
THANK YOU, THANK YOU, THANK YOU!